Dry-TECH™
Cascades Sonoco is the industry leader in roll packaging solutions. Protecting your paper rolls from moisture, foreign debris, and environmental damage during storage, handling, and distribution is our specialty.
The Dry-TECH™ system has been tested and proven in extreme field trials and in years of real-world use. In mill trials guided by Cascades Sonoco technical experts, rolls have emerged undamaged after spraying with water, as well as being submerged for 24 hours. In addition, customer data has shown year-over-year water damage claim reductions of more than 80 percent.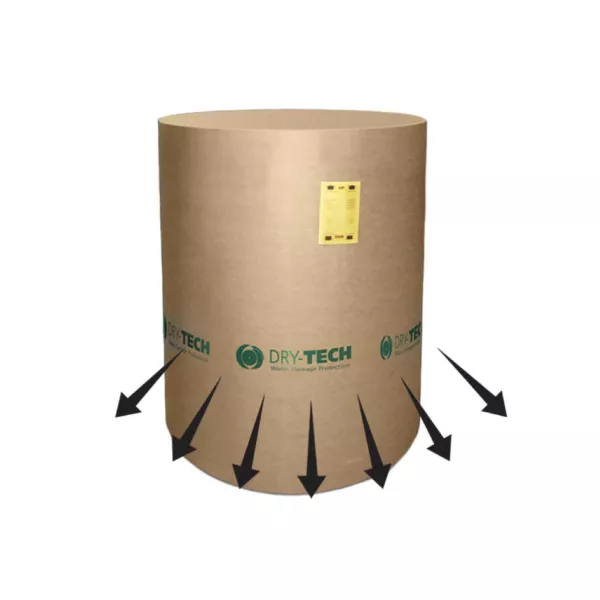 Inside Headers
Inside Headers cushion and protect the ends of paper rolls from damage and crimp marks during storage and distribution. Cascades Sonoco produces a complete line of Garda™ chipboard headers, along with a full range of NeoCorr™ corrugated headers for the most demanding protection applications. Many of our inside headers are designed to be utilized as part of the Dry-TECH moisture protection system. Download the sell sheet.
Outside Headers
Outside Headers protect the ends of the paper roll from moisture and water migration, dirt, grease, gases, light, scuffing, and other foreign debris. Cascades Sonoco produces a complete line of calipers, basis weights, and substrates to create optimal package protection.
Roll Patch
Just peel it, place it, and cover paper roll packaging defects fast. Our self-adhesive patch creates an instant barrier to stop moisture vapor from penetrating through small tears and breaches in roll packaging.
Roll Wrap
Roll Wrap protects the paper roll from moisture, dirt, grease, gases, light, and damage. Cascades Sonoco works closely with our board suppliers to meet the stringent specifications required to produce optimum protection. Numerous basis weight combinations along with resin and aqueous laminates and coatings are available.
Heat Platens
NuTech™ heat platens are the industry standard. Whether you are installing a new wrap line or looking to replace your existing platens, Cascades Sonoco will collaborate with you to determine the best solution. Cascades Sonoco service technicians work closely with the mill's maintenance staff to ensure optimum performance.
The Dry-TECH system is easily implemented within an existing wrap line, with minimal downtime and disruption.