FluteSHIELD® Corrugated Medium
Growers and retailers dislike wax-coated boxes because they can be messy, are expensive to dispose of, and nearly impossible to recycle. Our FluteSHIELD-SurfSHIELD solution offers true wax replacement and is 100% recyclable and repulpable.
FluteSHIELD medium and SurfSHIELD water-based paperboard coatings help your boxes maintain their strength in humid and moist environments during storage and transport while remaining both recyclable and repulpable.
This real medium—either semichem or recycled—will run at desired corrugator speeds. And converters love that the trim is repulpable. Effective on all standard basis weights, FluteSHIELD medium meets UN Cobb (achieves 30 minutes Cobb <100g/m2).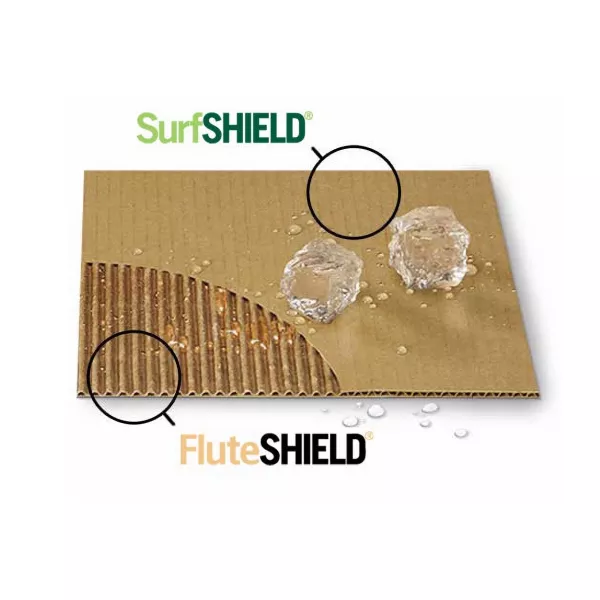 Our moisture-resistant barrier coating keeps humidity out and keeps your produce fresh.
Prevent water and grease from damaging your powders, granules, pet food, or detergents with customized barrier solutions.
Easy-release coatings are suitable for fresh or frozen meat and seafood.
FluteSHIELD® & SurfSHIELD® in Action
When a board liner is coated or laminated with specialty resins or films, fiber containers can protect products from outside conditions and from the paper-damaging properties of the packed products themselves.
Ask about our three levels of protection for your specific needs: Regular Cobb, Super Cobb, or Plus.
Water Resistant
FluteSHIELD medium employs innovative, heat-activated chemistry during the corrugating process to render the medium water repellent.
Grease Barrier
SurfSHIELD provides grease-resistant coatings for corrugated structures with three levels of 3M Kit protection available.
Food Safe
Our unique corrugated medium is FDA- and CFIA-compliant for direct food contact.
100% Recyclable & Repulpable
FluteSHIELD paper cartons are fully recyclable, unlike wax-coated produce boxes.